VII. What games & resolutions/image quality can my Video Card Play?
This compilation was done by Guru3d.com and i thought it best to add it under the request of other members. :) Note that only recent cards are included and please do not request for other cards/games from me since i wasn't the one who compiled this.
From Guru3d:
Examples how you could use these charts:
* If you want to purchase a certain graphics card, yet do not know how well a certain game will perform at 1280x1024. You just check the card versus resolution and look at the color coding or pictogram for your answer.
* You want to play F.e.a.r at a decent framerate at 1600x1200. What would be the cheapest card for that ? Just look up F.e.a.r. versus 1600x1200 and observe where performance is acceptable enough for you.
Test Setup:

*
nVIDIA nForce 680i SLI (eVGA) (FOR SLI)
Asus P5E3 Deluxe X38 (For CrossFire)
nVIDIA nForce 790i SLI (For 3-Way and Quad SLI)
*
Core 2 Duo X6800 Extreme (Conroe)
Core 2 Duo E8400 (Penryn)
Core 2 Extreme QX9770 (For 3-Way and Quad SLI Tests
* 2048 MB (2x1024MB) DDR2 CAS4 @ 1142 MHz Dominator Corsair
2048 MB (2x1024MB) DDR3 1333 MHz Corsair
* Enermax Galaxy 1000 Watt Power Supply
* WD Raptor 150 GB
* Dell 3007WFP - resolutions up-to 2560x1600

OS related Software

* Windows Vista 32-bit
* DirectX 9/10 End User Runtime
* Latest graphics cards drivers available
* NVIDIA nForce 590/680iplatform driver 9.53
This is gonna be long... First UP!!
3DMark 06
Default Settings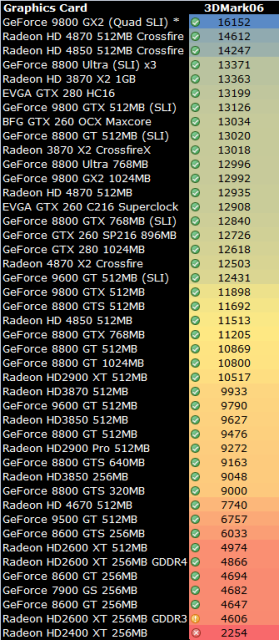 3DMark Vantage
Default Settings (Performance)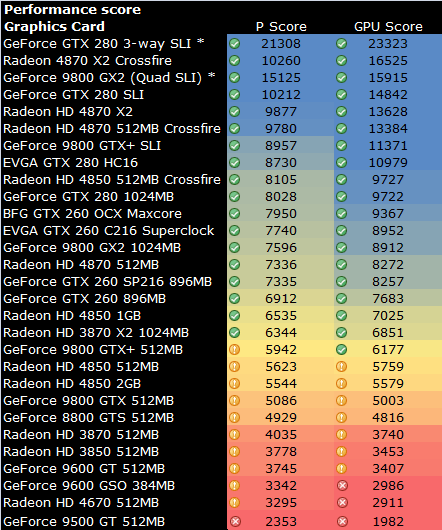 Crysis V1.1
Medium Graphics settings (DX10 where compatible), No AA, 16X AF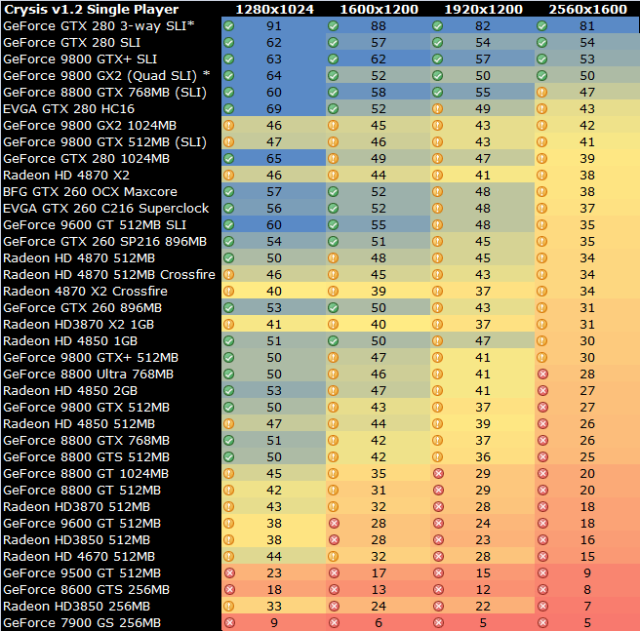 Call Of Duty 4
All Settings MAX, 4x Anti-Aliasing, 16X AF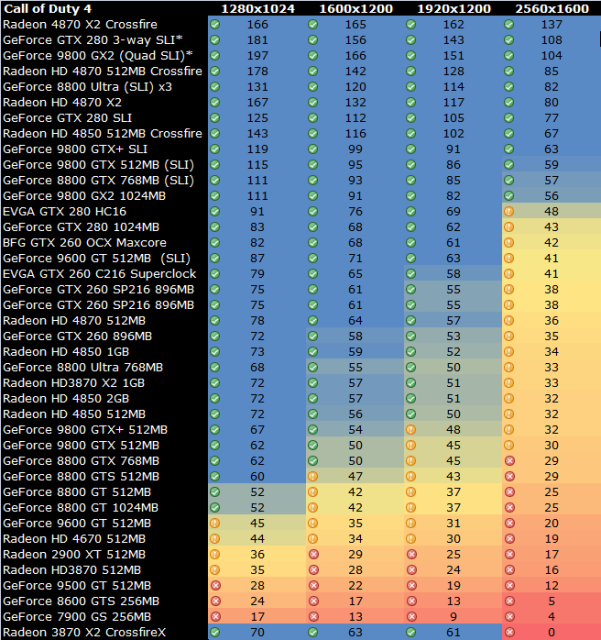 F.E.A.R
All Settings MAX,Soft Shadows Disabled, 4x Anti-Aliasing, 16X AF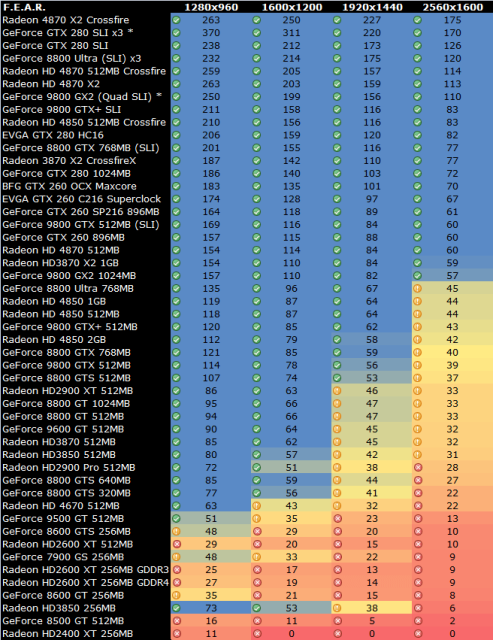 Ghost Recon Advanced Warfighter 2 (GRAW2)
* Edge Smoothing Anti Aliasing
* 16x anisotropic filtering
* Dynamic shadows HIGH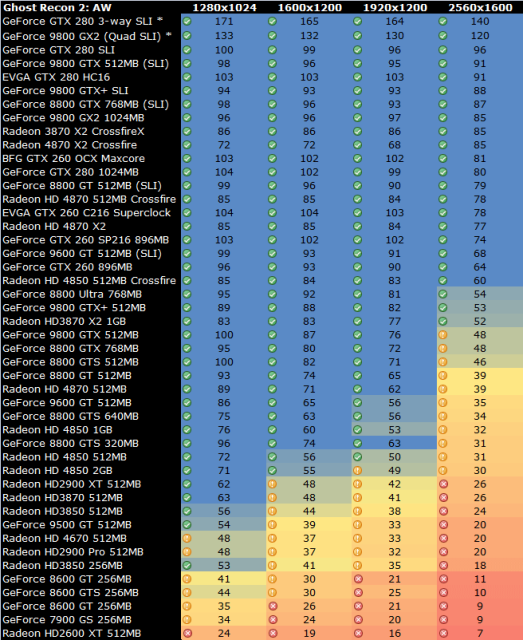 FrontLines: Fuel For War (GRAW2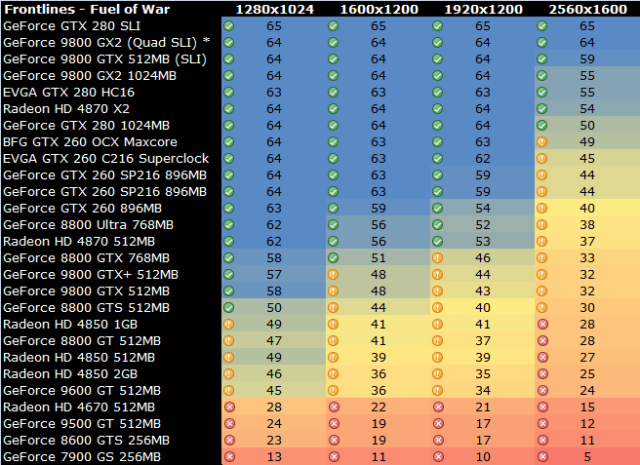 Warfront: Turning Point
4x AA
16x anisotropic filtering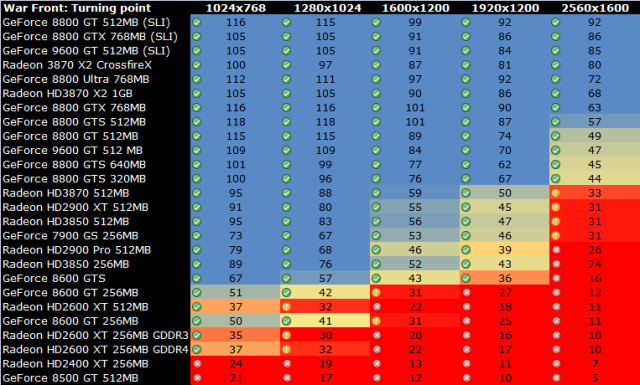 World In Conflict
Medium Dx9
4x AA
16x anisotropic filtering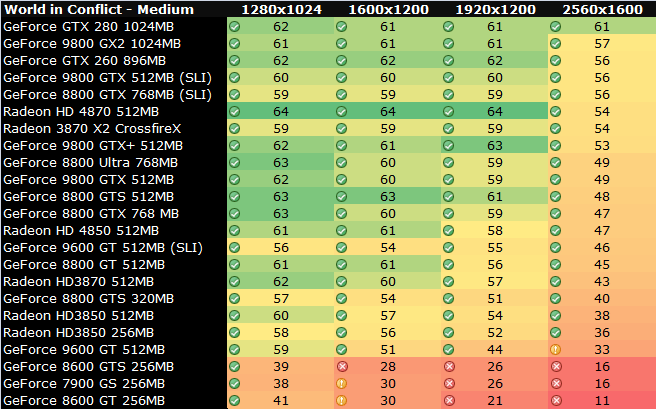 S.T.A.L.K.E.R
* In-game Software Anti Aliasing enabled
* 16x anisotropic filtering
* Dynamic lighting enabled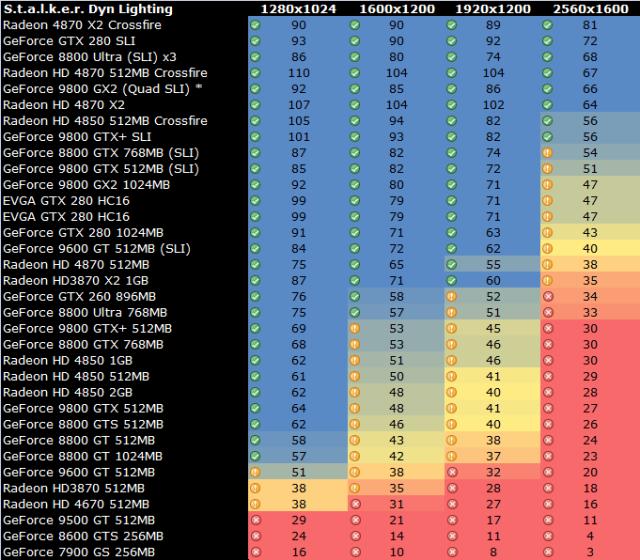 LASTLY
Enemy Territory - Quake Wars
* 4x Anti Aliasing
* 16x anisotropic filtering
* Soft Particles disabled (as it's not supported by the Radeon HD cards).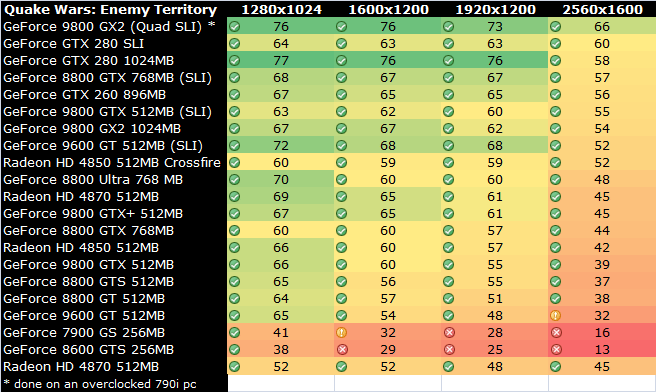 Again, this all came and was done by Guru3d.com. Hope this may help you in your problems/inquiries. :)
if you want to learn more about graphic cards / video cards performance, speed, ranking and benchmark,
(click here)